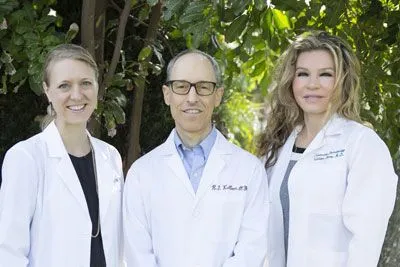 Integrated Dermatology of West Palm Beach, we specialize in combining the best of conventional dermatology with the techniques and therapies of integrative and holistic dermatology. Our approach is very patient specific, and allows us to tailor our treatments to each individual's medical conditions and lifestyle. While Dr. Kuttner has 30 years of experience in conventional dermatology, for those patients that are interested in a more natural approach, we offer testing and treatments that are chemical-free and holistic too.
Our practice offers both medical and cosmetic dermatology services. We have Kathleen Herne, M.D., on staff, who is one of the few fellowship trained Mohs Micrographic surgeons in Palm Beach County. Having a Mohs micrographic surgeon on staff allows us to ensure that our patients, who are diagnosed with skin cancer, can have prompt access to the best treatment available. She also has a passion for cosmetic dermatology, and has extensive experience with products such as Botox, Juvederm, Kybella, Restylane, Radiesse, and Sculptra.
For those patients who are interested in non-invasive anti-aging options, we offer a wide selection of topical and oral treatments that have been tested and proven to be effective at reversing or preventing the signs of aging.
There are many dermatological conditions that can affect one's lifestyle, and we pride ourselves in our treatment success rates for difficult conditions such as acne/rosacea, eczema, psoriasis, hyperhidrosis (excessive sweating), nail fungus, warts and melasma. We understand that every patient is different, and the same "cookie-cutter" approach doesn't work for everyone. At Integrated Dermatology of West Palm Beach, we tailor our treatment regimens to each patient's situation, and utilize a large scope of treatment options and approaches to yield successful results. The providers at Integrated Dermatology of West Palm Beach understand the importance of keeping up to date with the newest and most effective treatments available, so that we can better serve our patients. For additional information on how our providers stay up to date, please see our provider pages.